Last Updated on
This article contains information on how to make candle wax. Such types as beeswax, soy wax, paraffin wax, gel wax, bayberry wax, palm wax and coconut wax are discussed here. We hope to give you a great DIY experience making candle waxes yourself. You may not be able to make some of the waxes unless you are going large scale and are ready to purchase special equipment. But this article explains, steps by steps, how each type of wax listed above is made.

How to Make Candle Wax
Candle waxes are essential to candle making. Most times, in DIY candle making, candle waxes are usually purchased. But you can go the extra mile and make candle waxes yourself. Now, it is not all kind of wax that you can make yourself. Some really have to pass through some mechanical processing and all that. But for the ones you can actually make on your own, you would actually be saving some money. And who knows, you could even set up a business, making candle waxes in large quantity for sale.
How to Make Beeswax
First of all, how to make candle wax
Step One
Get some honeycomb, break into small chunks and wrap them in a piece of cheesecloth. You may have to work in batches if the honeycomb is much. Do not worry about all the dirt and insects. They would be filtered out later. Tie all the ends of the cheesecloth together, forming a bundle.
Step Two
Pour some water in a pot (an old one you do not use any longer) and place it on a stove set to medium heat. Just as the water starts simmering, place the cheesecloth bundle of wax in the pot. After some time, you would notice that the water becomes yellow-brown and oily. That is melted wax seeping out of the cheesecloth. Let this go on till it seems the wax is all out. Then, squeeze the cheesecloth with a pair of tongs so that almost nothing is left behind.

Step Three
Now, it is time to let the wax-water mixture cool. You can leave it in the same pot to cool or pour it in a container (or more). As it cools, the wax would float on the water and solidify, forming a kind of cake.
Step Four
There will still be dirt in it at this point so you have to filter it out to get clean beeswax. Remove the layer of wax from the water (just push down gently at the edges) and melt it in a double boiler. Then filter the wax by letting the wax pass through a strainer as you pour from the pot to another pot or container. Leave it to completely cool and harden before removing the round beeswax piece.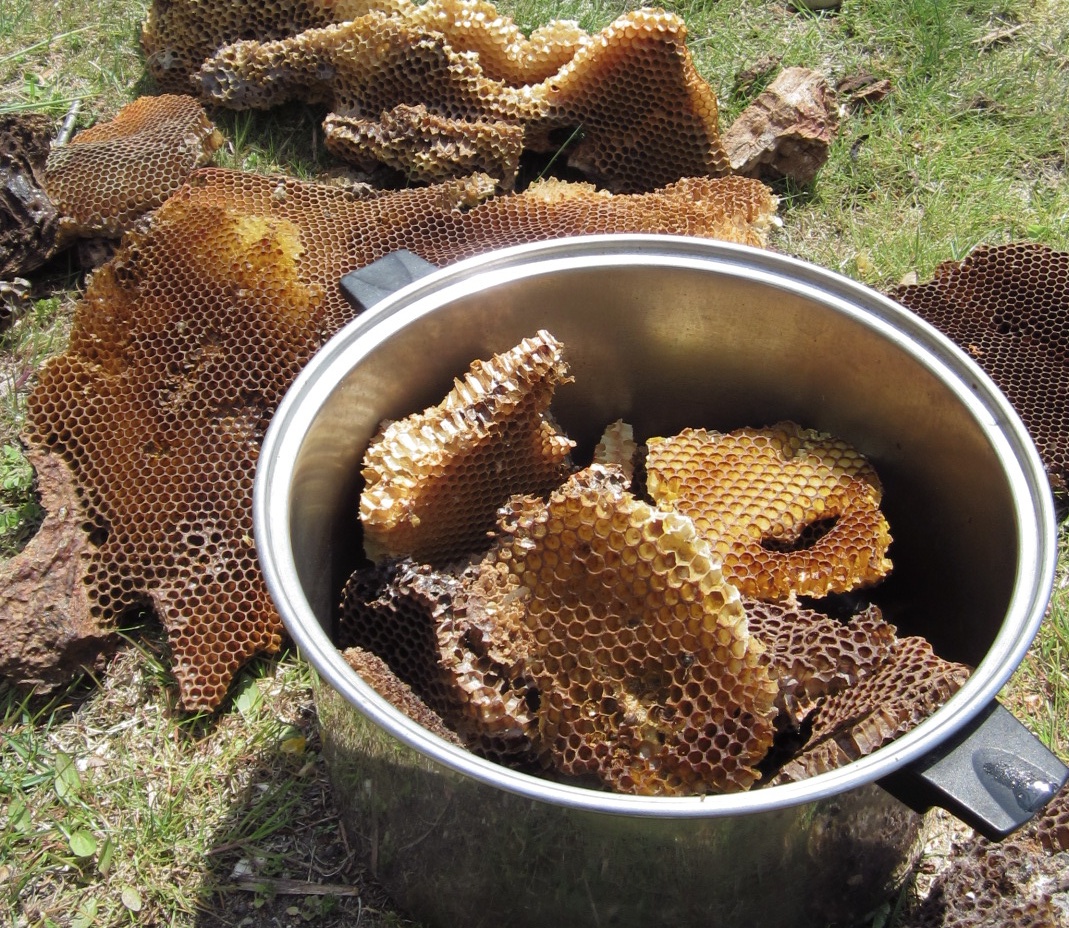 ---
How to Make Soy Wax

Companies that manufacture soy wax do their best not to reveal all about what it is made of and how it is made. But the basic fact is that the wax is gotten from soybean oil. Of course, other ingredients are added by each manufacturer.
First, the oil is separated from soybean by the use of a mechanical press. It takes around 60kg of soybeans to make just 10kg of oil.
After extracting the liquid (oil) from soybean, it then goes through a process called hydrogenation by which soy wax is made. Hydrogenation is the process by which unsaturated oils become saturated. It is done by adding hydrogen to the oil at a very high temperature, stirring both together so the hydrogen dissolves completely in it. Nickel catalyst is added too and stirring the mixture would make it spread evenly through the oil. The result is soy wax.
But you must have noticed that most soy wax produced are soft, have low melt point and as a result, can only be used to make container candles. If you want to use soy wax to make standalone candles, then you have to mix it with additives such as stearin or vybar. And you can mix it with another type of wax too, creating a blend. Note that not all wax labelled 'soy wax' is completely made of soy wax. If you like soy wax because it is natural and want to be sure you are using all natural soy wax, you need to inquire from the manufacturer (hopefully, they would be honest enough).
If you want to be producing large amounts of soy wax yourself, you need to purchase a hydrogenating machine. With it, heat the raw soybean oil to a temperature between 140 to 220°C. This will automatically solidify the oil and you get wax.
---
 How to Make Gel Wax

Step One
First of all, get thermoplastic resin powder and white mineral oil with a flashpoint of 375°F.
Step Two
Mix 0.9 oz of the resin with 1 lb of the mineral oil together in a bowl. As time goes on, depending on the type of candle you want to use the gel wax to make, you may increase the amount of resin up to about 1.4 lb. But it is good to start small; the amount of mineral oil should still remain 1 lb. Stir this mixture thoroughly with a wooden spoon, leave it for an hour and stir again.
Step Three
Pour it into a pot and heat it up, with the temperature not exceeding 220°F. And keep stirring it too. The mixture would continue to change look and texture till it is ready. After two hours, it must have been looking like what you want and ready to be cooled. Turn of the heat at that point.
Step Four
Pour the wax into a container to cool. Then cover it with a lid and store the wax properly until you would use it.
---
How to Make Paraffin Wax
how to make candle wax
Paraffin is gotten from slack wax, a by-product of the petroleum refining process containing wax and oil.
Step One
First, the slack wax is de-oiled by a process called crystallisation. That is, the oil is first separated from the wax. Crystallisation involves mixing some solvents with the slack wax and heating up the mixture. After this, it is left to cool during which the wax is extracted.
Step Two
Through distillation, the solvent is removed from the wax and the oil. Both, without the solvent, are called 'product wax' and 'foot's oil' respectively.
Step Three
The wax may be made to undergo some further processing to remove colour and odour.
Step Four
For some properties (like melt point), the wax may be blended together with some other materials. And then the paraffin wax is ready for sale.
---
How to Make Bayberry Wax

Step One
First of all, harvest some bayberries, enough to make a considerable amount of wax. One pound of wax can be gotten from about four pounds of bayberries. It would take some time, as the berries are very small and thickly clustered.
Step Two
Pour the berries in a pot of water and boil for some time. Boil until you notice the wax floating to the surface of the water. The wax contains stearic, myritic, palmitic acids and so on.
Step Three
Leave the water to cool for some time, during which the wax on top would harden. Remove the pale green wax from the pot when it hardens and store for use.
If you would like to learn more about making bayberry wax visit gardenista.com.
---
How to Make Palm Wax
how to make candle wax
Step One
The fruits of oil palm trees are called palm kernels. Bunches of palm kernels are first harvested and sent to a mill. These fruits are pressed and undergo some other process to extract palm oil.
Step Two
This crude palm oil is further refined and filtered such that the liquid (palm olein) is separated from the solid, paste-like component (palm stearin). Palm olein is mainly used as cooking oil.
Step Three
Either of the components (olein or stearin) is further hydrogenated to obtain wax. The raw palm oil can also be hydrogenated to get wax. So the price of palm wax varies depending on what part is hydrogenated.
---
How to Make Coconut Wax

Step One
Coconut oil is first extracted by first cutting coconut (meat and all) into small pieces, blending it together, filtering the milk out and cooling it. It is after the cooling process that the curd is removed, leaving the oil.
Step Two
Finally, the coconut oil is then hydrogenated to get wax.
how to make candle wax,